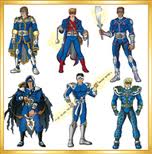 The Time Travel Elffs are the male counterparts, and friends, of the
Real Tooth Fairies
. They are usually protecting the Earth, travelling through time, and fighting off the Gloom Shadow. The Real Tooth Fairies deliver letters and surprises for them, as they are usually
too busy to deliver things themselves.
 The Time Travel Elffs are Prince Evan, Dublin, Isaiah, Connor, Mason, and Santiago. Prince Evan is the son of Queen Sirona, and also Twinkle's boyfriend. The Time Travel Elffs go to school at the Elff Institute of Time Travel, next to Real Fairyversity. They live in the Time Travel Tower.
However, unlike the Real Tooth Fairies, they do not have a full website. The Time Travel Elffs have a page in the Tooth Fairy FAQ page and a "Coming Soon" page.